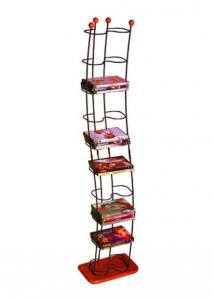 click on picture for more images
DVD Wave Tower - 74
Setup Time:10 Minutes
Tools:Small hammer
Ships:1 box UPS

USER OPINIONS
Reviews & Experiences
Give us your opinion


Write a review | No reviews for this product. Multimedia unit accommodates all media sizes and types. Beautifully hand painted and finished base provides optimum stability. Steel tube construction for optimal durability. Vertical design provides ultimate in space-saving solution. Organic curved wire design accents and enhances your home decor. Angled wire shelves allow for optimal title viewing angle.

Finish: Black With Cherry
Material: Steel tube
Manufacturer: Atlantic, Inc.

Copyright 2001 - 2012 by Storehouserock, a division of Direct To You Storage Systems, Inc.
All rights reserved. All trademarks and registered trademarks are the property of their respective owners.

SSL