The finest selection of CD, DVD and multimedia storage, available in racks, towers, custom cabinets, CD holders and much more. Organize your media collection in one of our stylish CD, DVD or multimedia storage cabinets.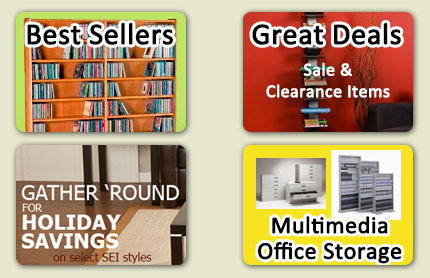 FREE SHIPPING ... No Sales Tax.
CD DVD Revolving Racks
Our CD, DVD Spinning and Revolving Racks are available in various styles to accommodate your CD, DVD, VHS and other Media. We offer the largest collection of CD Storage, DVD Storage to organize your Media collection.



$229.95

500 CD Capacity 2-Door Spinning Tower, Hardwood Veneer

500 CD Capacity 2-Door Spinning Tower, Hardwood Veneer

1

Average rating:


item #CDR-500, CDR-500W



$469.95

CD/DVD 4-Sided Spinning Tower
item #CDVR-1628, CDVR-1628WAL



$399.00

Solid Hardwood Swiveling CD/DVD Storage Rack - 1260

CDs: 1260
DVDs: 560
VHS: 280


item #TO-1260-C, TO-1260-E, TO-1260-X, TO-1260-O



$109.00

Hardwood Swivel Tower
item #TO-144E, TO-144O



$199.00

Solid Hardwood Swiveling CD/DVD Storage Rack - 288
item #TO-288-C, TO-288-E, TO-288-X, TO-288-O



$219.00

Solid Hardwood Swiveling CD/DVD Storage Rack -336
item #TO-336E, TO-336X, TO-336O



$299.00

Solid Hardwood Swiveling CD/DVD Storage Rack - 576

CDs: 576
DVDs: 256
VHS: 128


item #TO-576-C, TO-576-E, TO-576-X, TO-576-O



$106.99

Black 2-Sided Spinning Tower

CDs: 512
DVDs: 220
VHS: 120


item #BMS-0525



$191.99

Espresso 2-Sided Spinning Tower

CDs: 512
DVDs: 220
VHS: 120


item #EMS-0525



$106.99

Oak & Black 2-Sided Spinning Tower

CDs: 512
DVDs: 220
VHS: 120


item #OMS-0525



$191.99

Black 4-Sided Spinning Tower

CDs: 832
DVDs: 340
VHS: 200


item #BMS-0800-K



$191.99

Oak & Black 4-Sided Spinning Tower

CDs: 832
DVDs: 340
VHS: 200


item #OMS-0800-K