The finest selection of CD, DVD and multimedia storage, available in racks, towers, custom cabinets, CD holders and much more. Organize your media collection in one of our stylish CD, DVD or multimedia storage cabinets.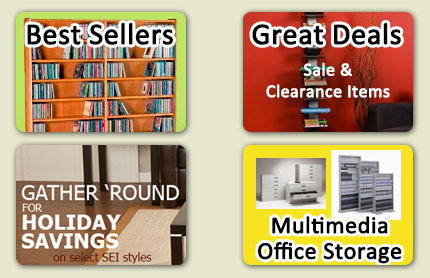 FREE SHIPPING ... No Sales Tax.
Manufacturer - Russ Bassett Product Listing
Russ Bassett Corporation has built a reputation for providing high quality, innovative products. The company prides itself on designing and manufacturing uncompromising technical furniture and storage products that are unmatched in the industry. The company offers a broad selection of storage products, designed specifically for media storage applications including Gemtrac, Slidetrac and other high-density cabinets and shelving solutions. Russ Bassett also designs and manufactures Desience Modular Consoles for mission critical environments. The company makes it a top priority to provide top-quality service and "best fit" solution for its customers. For over 45 years, Russ Bassett has become a market leader because of its full range of support and services including space planning, design, engineering, manufacturing and installation.



$1,859.95

Short Lateral Cabinet
item #AV-LD-4-8



$2,036.95

Medium Lateral Cabinet
item #AV-LD-5-8



$2,564.95

Tall Lateral Cabinet
item #AV-LD-8-8



$1,743.95

Short Vertical 4 Drawers
item #AV-VD-4-4



$1,897.95

Medium Vertical 4 Drawers
item #AV-VD-5-4



$2,334.95

Tall Vertical 8 Drawers
item #AV-VD-8-4



$1,945.95

Short Extra Deep Lateral Cabinet
item #AV-XD-4-8



$2,146.95

Medium Extra Deep Lateral Cabinet
item #AV-XD-5-8



$2,718.95

Tall Extra Deep Lateral Cabinet
item #AV-XD-8-8



$526.95

2 Drawer Stackable Adder
item #CDV-2A



$595.95

2 Drawer Stackable Starter

2 Drawer Stackable Starter

1

Average rating:


item #CDV-2S



$1,099.95

6 Shelves DVD Storage with backstops and standard shelving for DVDs
item #SX60-7-6B



$1,199.95

9 Shelves CD/DVD Storage with jewel cases
item #SX60-7-9B



$1,259.95

12 Shelves CD/DVD Storage with jewel cases
item #SX81-7-12B



$1,209.95

9 Shelves DVD Storage with backstops and standard shelving for DVDs
item #SX81-7-9B



$1,259.95

10 Shelves DVD Storage with backstops and standard shelving for DVDs
item #SX90-7-10B



$1,389.95

14 Shelves CD/DVD Storage with jewel cases
item #SX90-7-14B